Thanksgiving has always been one of my favorite holidays BUT I know that there are some parts of the holidays that aren't so amazing…grocery store lines, crowded airports, the pressure of hosting family. Whether you're hosting Thanksgiving this year or traveling as a guest, I've compiled a few tips for the host/hostess and guests alike to hopefully make it a more enjoyable holiday for all!
Tips for guests:
If you aren't hosting Thanksgiving this year but are heading to a family Thanksgiving, "Friendsgiving", In-laws Thanksgiving, here are a few tips for being a thoughtful guest:
"Intentional Gifting"
I think it's always important to bring a gift for the host or hostess. "Intentional Gifting" takes it one step further and makes the host feel appreciated. It tells the host, "I'm excited to be here", and, "thanks for hosting!"
The key part about being intentional with your gifting is to know your host!
Do they like red wine or white? Gift them a new bottle to try. Do they love Anthropologie? Gift them a beautiful candle.
Are they a fan of mixed drinks? Bring them a bar cart sized Bourbon or Gin to add to their collection (I love the mini sizes here!).
Are they a cheese lover? Bring them some small samples of new cheeses to try from your local cheese shop.
Coffee lover? Bring a new blend to brew after dinner.
Flowers are almost always a safe bet too.
Most of these items can be under $20. No matter what I decide to give as my intentional gift, I always try to support a small business-I have added links below of some of my favorite small businesses that deserve some love during the holidays!
Southside Flower Market
Martha's Vineyard
Rebel
Commune GR
Mokaya
The Rockford Cheese Shop
Herman's Boy
July Sky Candle Co.
Conversation
Especially if you're spending lots of time with family for the holidays, sometimes the conversation can take an awkward turn, sometimes for the worst…*cue the cocktails*.
But actually, this amazing cocktail my mom created has been a crowd pleaser every time! It also gives everyone something to talk about instead of asking where you're going to college for the 10th time or asking when you're going to get pregnant (true story).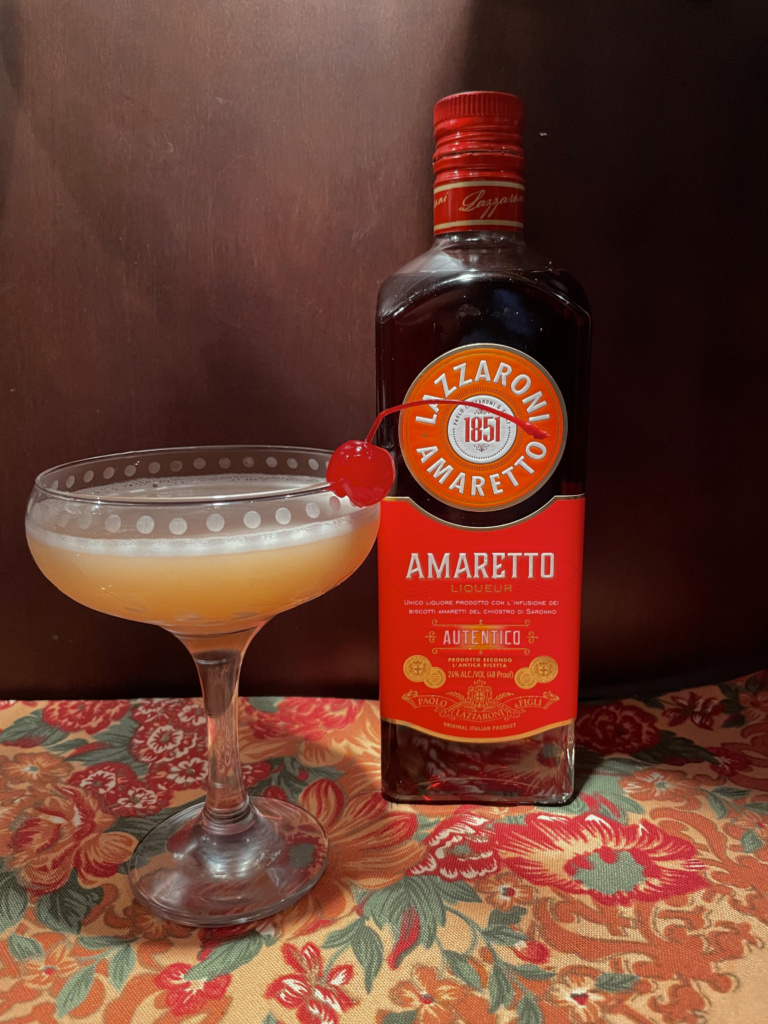 The Recipe:
Bourbon Amaretto Sour
Equal parts everything!
For 1 cocktail:
1 oz. of your favorite bourbon (any will do-add more if you need it a bit stronger 😉 )
1 oz. Freshly squeezed lemon juice
1 oz. Pasteurized egg whites
1 oz. Amaretto
1 oz. Almond Simple Syrup (Bring equal parts sugar and water to a boil and add a dash of almond extract to taste.)
It also is nice to have some conversation questions in your back pocket. These can be compliments to the host, questions about a recipe, etc. Bringing it back to the host and giving a sincere compliment always lightens the mood.
Social Cues
How is the host feeling…Are they anxious? Overwhelmed? See where you can assist, if necessary. If you know the host well, they may take you up on helping pour the wine, seasoning the mashed potatoes, or handing out appetizers. On the other hand, if you've offered your help to the host and they decline, then let it go and enjoy your wine 🙂
Don't arrive early, don't be the last to leave, end of story!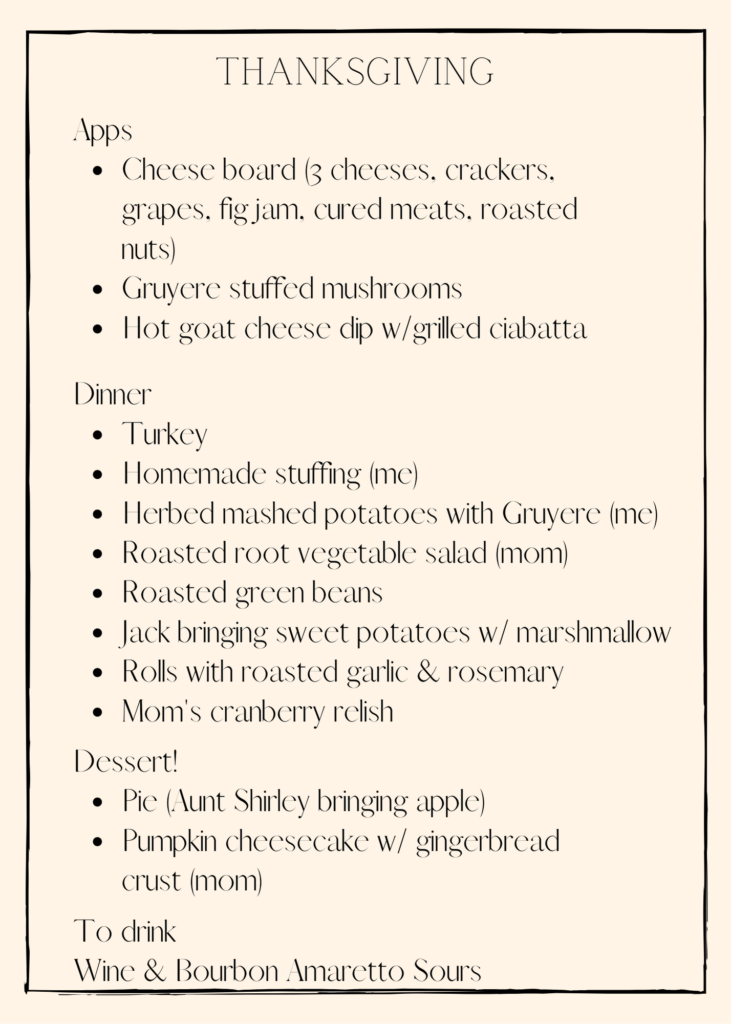 Tips for the host:
Planning an Intentional Menu
From my experience, it takes a lot of stress away if I can plan what I'm making a few weeks ahead of time. Planning an Intentional Menu involves considering your guests, what they like, and whether they have any dietary restrictions. Gluten free? Vegan? Does anyone prefer not to drink alcohol? Are there any kids coming (bring in my brother, ages 5-9 who would only eat chicken nuggets at every family gathering)? Considering your guests' needs helps you to determine what you should actually spend your time on. Check out one of my Intentional Menus I've planned below:
Timing
Prepare as many things as you can in advance, because almost always, something I'm not anticipating will happen the day of the event. Most Thanksgiving sides can be prepared at least a day in advance.
Whenever the event is supposed to start, give yourself an extra hour. This allows you to have a moment to get ready, relax, and prepares you for any early guests. Without fail, my Aunt Shirley will arrive 45 minutes early to any gathering, no matter how many times we tell her the time.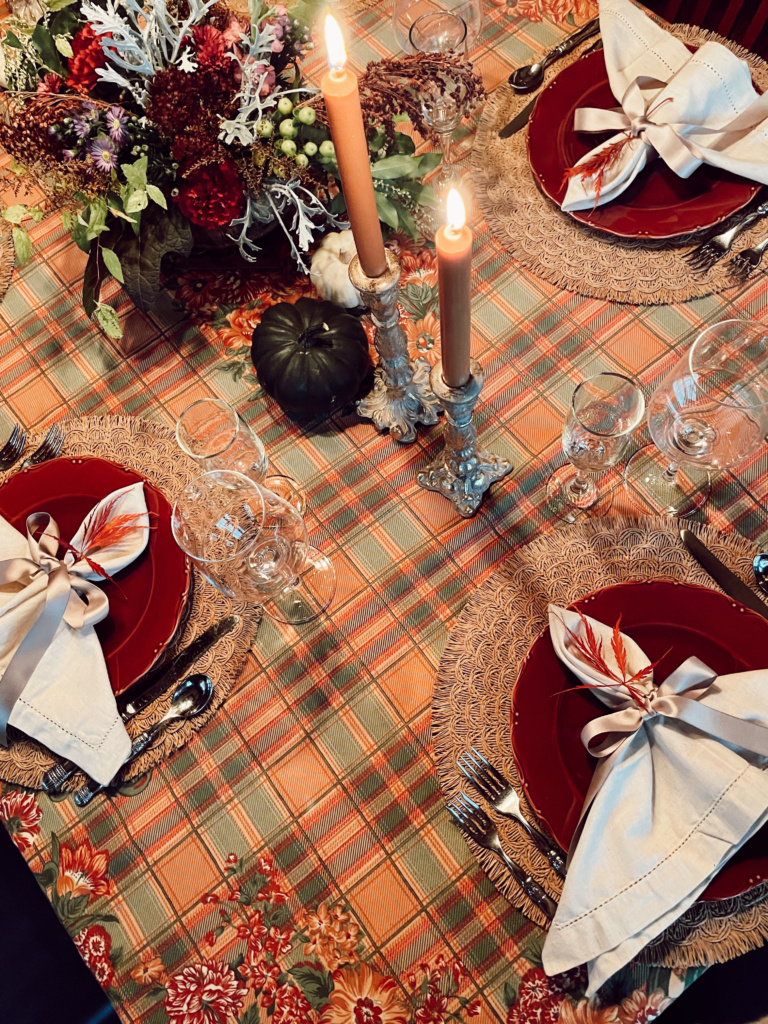 Table Setting
Here are a few tips I have when setting the table for Thanksgiving dinner:
Keep it simple!
There's going to be so much food on that table anyway, no one likes to feel cramped. I love to use florals from my yard, or pick up a few blooms from the farmers market and have one centerpiece with some candles to keep things simple, yet beautiful.
Candles are always necessary in my opinion.
They're cost effective and give off a warm, inviting light. Either taper candles or votive candles will do-whatever you might have on hand! (I always like to make sure the flame is enclosed in glass in the event of someone bumping it while passing the potatoes.)
If you're inviting guests who may not know each other, name cards can be helpful.
I usually don't do "assigned seats" but sometimes it takes the guesswork out of it for guests, or if there's a larger group.
Have a playlist!
Not necessarily a tablescape tip, but be intentional when choosing the music you play-having a variety of songs for all ages is not only fun, but thoughtful.
Wishing all of you a safe and happy Thanksgiving! Send me a message with your Thanksgiving tablescapes!